Ironically enough, I selected Will
Schade
from the list because the title made me smile "Instilling Confidence, Inspiring Laughter"; then I read his bio and found out he has an MA in Printmaking from the State University of New York at Albany. Destiny.
Sadly enough, the first article I found in looking a little further for info on him was his obituary from fall 2008. He had been a professor at Sage College and passed away from Parkinson's disease.
In the Making connects him to Robert
Arneson
(right) as having funk art characteristics.
Schade
was known for his bizarre humor and twists on important/historical/biblical stories and scenarios in his art. He was also dyslexic and embraced this part of himself, displaying it boldly in order to allow the viewer to get a good guilt-free laugh when looking at his art.
In The Making: Inter-Historical Comparisons:
8a)
Satire in art commonly takes the form of social satire, not self-satire. How does the work of self-satirists differ from the work of social satirists like George Grosz? Are Grosz's social critiques humorous?
Part of the answer to the first question lies in the second;
Schade's
work is meant to make the viewer laugh and he uses his own deficiencies as partial source for this satirical humor. Grosz's artwork comments more on his own life, the society he lived in (much relates to Hitler and the Nazis). His humor is more bitter and is not actually created to cause laughter; rather a way to make viewers think twice about the subject matter.
8b) Compare one work by

Schade

and one by

Arneson

to three artworks that are not self-satires but instead were created to convey self-

respec
tability

, self-idealization, and self-aggrandizement.

The above two artworks by
Schade
and
Arneson
differ from the bottom three in that they are whimsical and aim to produce laughter at the silly and absurd.
Schade
employs the use of his child-like handwriting and misspellings to boost the viewers ego of being better than that and finding humor while
Arneson's
subject matter is just plain laughable. Other artists however, create a sense of respect and dignity for the artist. I found a show from the National Gallery in London entitled "Rebels and Martyrs", full of works by artists absorbed in the idea of themselves. Three pieces are shown below that were in the exhibit and demonstrate a different personality and mentality of artists and how they view themselves (embracing imperfections or being blind to any possible weaknesses). I have a great respect for artists who don't take themselves too seriously and acknowledge their personal limitations and enjoy getting a laugh out of the viewer, evoking a playful emotion that runs in opposition to the classical view that artwork is very serious and hung in a gallery and must be pondered from a safe 3 feet distance in complete silence.
Article/Review of Exhibition:
http://www.galeriedada.com/page-46.html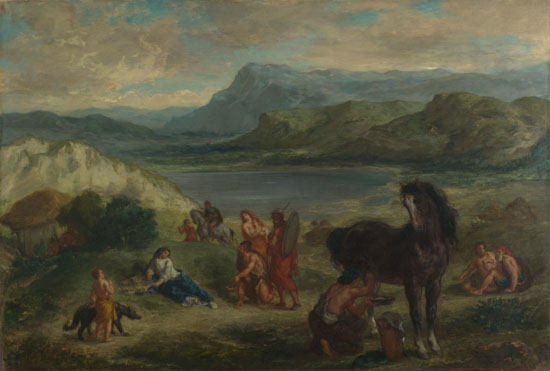 'Eugene

Delacoix's

mammoth Ovid Among the

Scythians

shows "the artist in exile, surrounded by barbarian hordes who didn't understand him"...'


Death of Chatterton by Henry Wallis
Pissaro's Portrait of Paul Cezanne